This information gives an overview of EuroWindoor targets and Member benefits.
EuroWindoor Strategy and Statute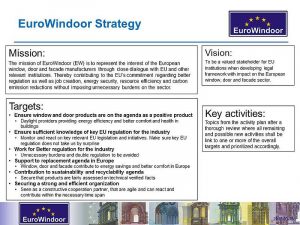 Mission: The mission of EuroWindoor is to represent the interest of the European window, door and facade manufacturers through close dialogue with EU and other relevant institutions. Thereby contributing to the EU's commitment regarding better regulation as well as job creation, energy security, resource efficiency and carbon emission reductions without imposing unnecessary burdens on the sector.
Vision: To be a valued stakeholder for EU institutions when developing legal framework with impact on the European window, door and facade sector is EuroWindoor's Vision.
EuroWindoor Member benefits
EuroWindoor is partner of
EuroWindoor is in liaison with
CEN - European Committee for Standardization

CEN/TC 33 - Doors, windows, shutters, building hardware and curtain walling
Secretariat: JISC | Secretary: Mr Akira Kudo
Chairperson: Mr. Yasuo Omi | ISO Central Secretariat contact: Dr Anna Caterina Rossi
ISO - International Organization for Standardization

ISO/TC 162 - Doors and windows
Secretariat: JISC | Secretary: Mr Akira Kudo
Chairperson: Mr. Yasuo Omi | ISO Central Secretariat contact: Dr Anna Caterina Rossi
Collaboration with associations on European and international level
At the European level, EuroWindoor maintains good contacts with the associations